Mission Statement
The Utah GCSA is dedicated to improving the superintendents' position in the golf industry through education, networking, advocacy and to grow the game of golf.
Vision Statement
Provide exceptional programs and services utilized by all members of the association.
UGCSA 2024 Bowling Tournament
The 2024 Bowling Outing is shceduled for Tuesday, January 9 at Bonwood Bowl in SLC.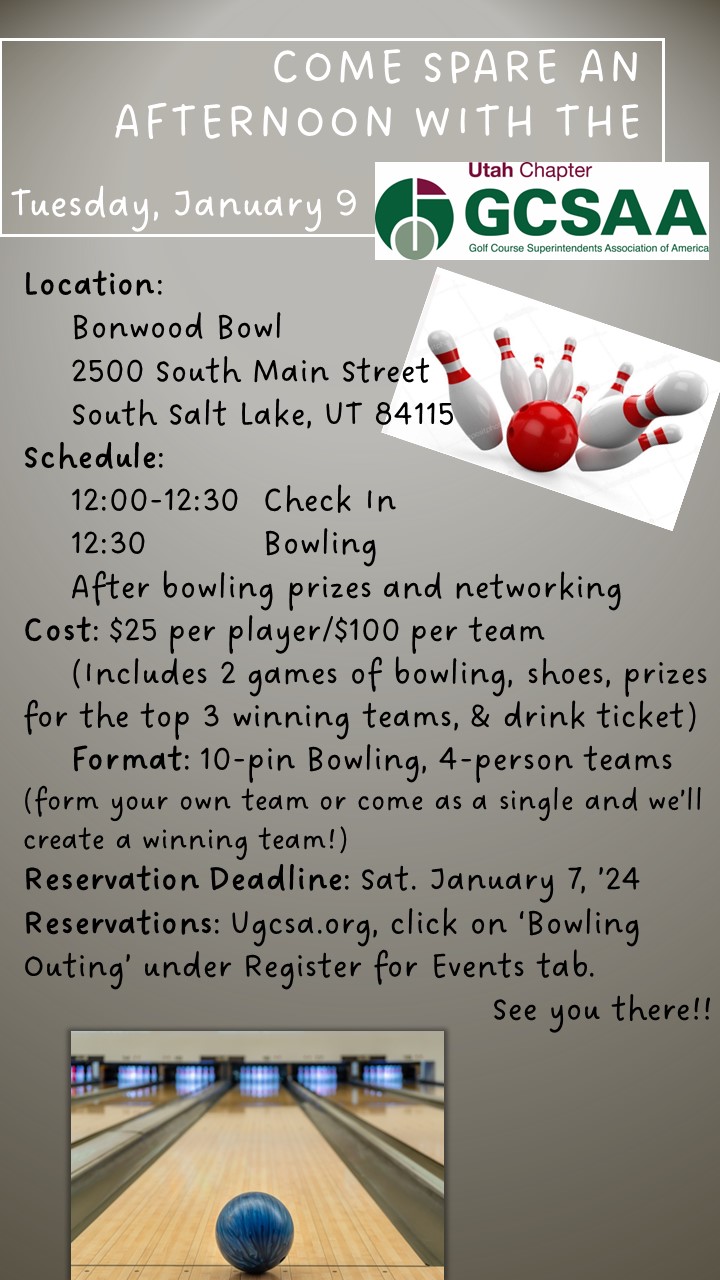 GCSAA National Conference & Trade Show
GCSAA National Conference
January 27-February 1, 2024
Phoenix AZ
Click here for registration information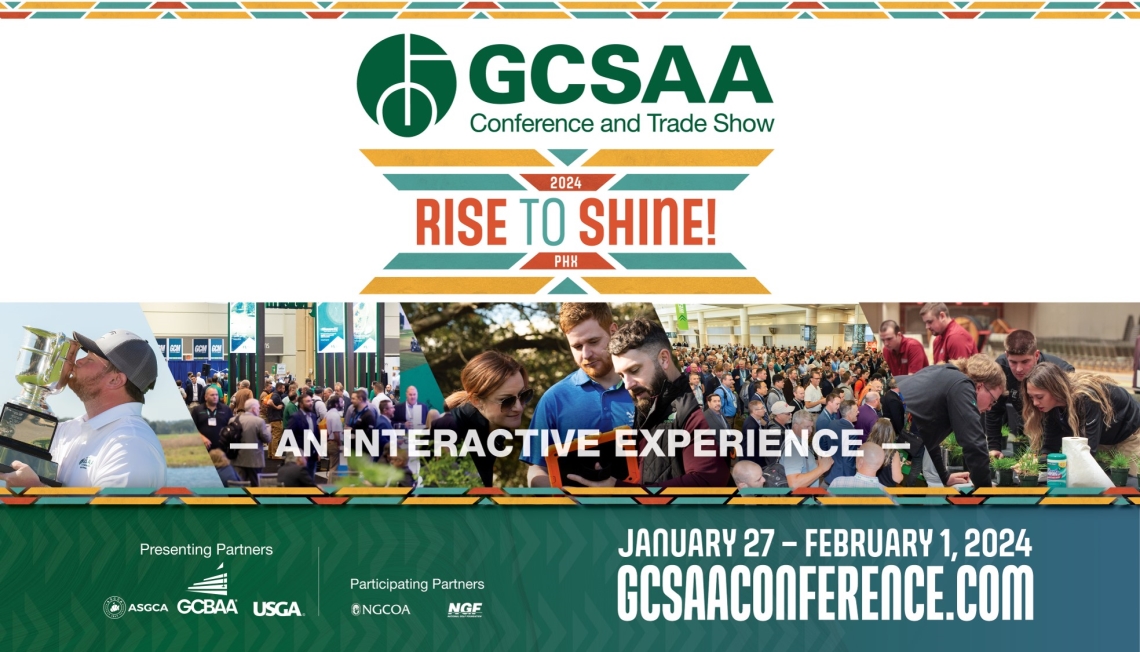 2024 Hospitality Room
The Chapters of the Northwest Hospitality Room during the National GCSAA Conference will be held on January 31, 2024
State 48 Brewery from 6:30 - 9:30 PM
345 W Van Buren Street
Phoenix, AZ 85003
Member Spotlight
]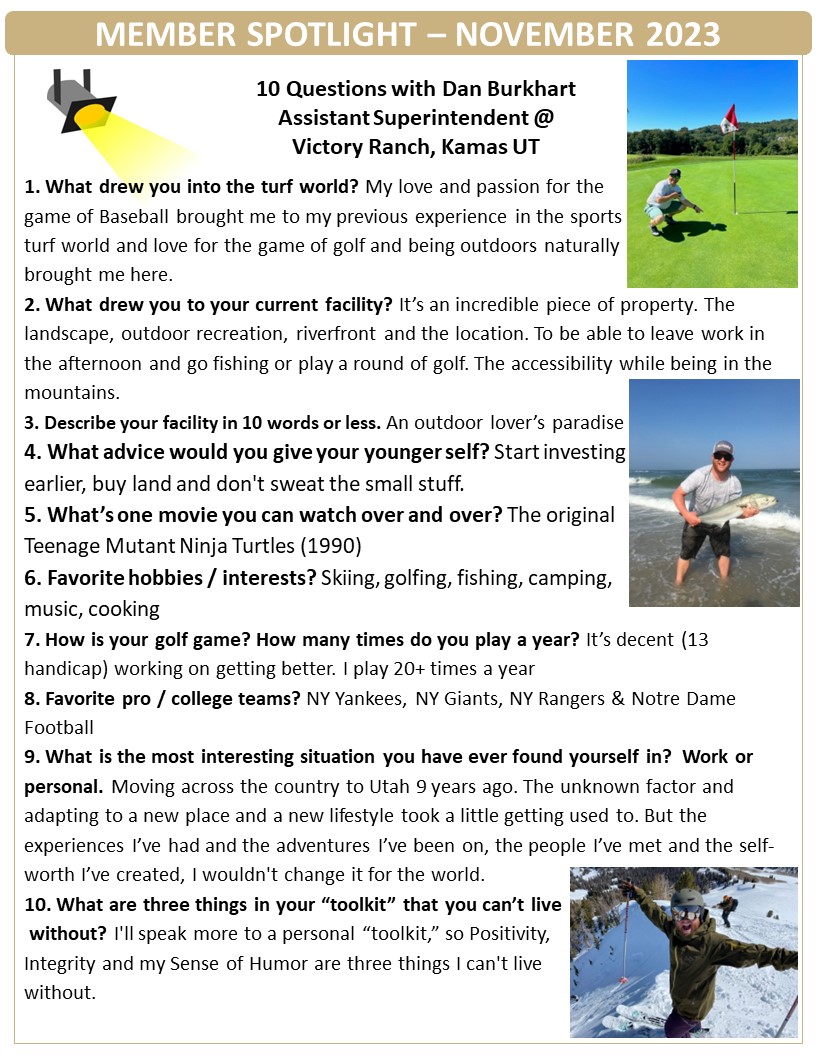 2023 UGCSA Sponsors
Thank you to the 2023 UGCSA Sponsors!
Platinum Sponsors
Response to Utah's Drought Situation
For many generations golf has been a part of the patchwork of society. It has long since been a place where young and old, expert or beginner, could come together over the love of a game. Ask any of the nearly 24.8 million golfers in the United States what golf means to them, and you'll find a passionate answer. Ask any of the 6.2 million new golfers in 2020 and you'll probably rouse up the same passion. In 2020 golf's value was proven. A year where more places were shutting down than staying open, golf courses still proved what they have always been, an escape. Many flocked to golf courses as a safe place they could recreate during the pandemic. It is uniting across all races, age, and abilities. What has golf meant to a society? Ask anyone who has ever picked up a club.
2021 has now brought about new challenges, namely the drought here in Utah. Though the state is annually in some form of drought, this year has been exceptional. Golf Course Superintendents have stepped up and are using what tools we have to do our part to protect one of our most precious resources, water. The demands of providing a playable golf course that is firm throughout, have superintendents constantly adjusting their practices. Though a reduction of water usage is the ultimate goal, superintendents are using their ingenuity to go about it in a variety of ways depending on what is available to them. Here are some of the many practices going on at your local golf course to save water.
Secondary water for irrigation – Many golf courses in the state use secondary water sources (non-potable) for irrigation. Secondary water is untreated, unfiltered water, mainly gathered through runoff.
Monitoring weather/Turf water loss – Through a variety of weather programs both real time and predictive, superintendents are adjusting watering schedules based on turf water loss and upcoming weather potential. Advanced weather stations that record temperature, humidity, UV index, Precipitation, and wind speed are used to adjust the amount of water applied daily.
Fertility Programs – Not all grass is green simply due to water. Superintendents are using an extremely precise, balance fertility program based on their individual site. Creating a dense stand of turf that is vigorous and healthy helps grass maintain its color and withstand the stresses of reduced watering.
Wetting agents – Wetting agents are products used to make watering more effective. They reduce natural tensions in the soil and allow water to penetrate more efficiently from the surface. This allows for less water to be applied to achieve the same soil moisture.
Establishing higher mowing heights – Longer grass = deeper roots. Superintendents are selecting new areas around the course for higher mowing heights. These areas require less maintenance, less inputs, and less water.
Selection of grass varieties – Grass varieties are constantly being evaluated and put into use that possess greater drought tolerance. Yearly overseeding with grass species that have proven themselves in the intermountain west is an ongoing practice.
Irrigation audits/upgrades – Golf Superintendents are constantly evaluating / reevaluating their irrigation system. Routine audits make sure each irrigation head is applying water appropriately. Additionally, there have been many advancements made in the golf industry to ensure the entire system is functioning at its optimal level.
Sand topdressing – Sand topdressing is utilized to encourage deeper rooting leading to a reduction of water.
In summary, though the state of the drought has increased in severity, western drought is an annual problem. Superintendents have been dealing with water issues since day one. They have been working tirelessly to be as efficient as possible, even in years where water is seemingly plentiful. Water conservation, especially in the west, is a top priority. These educated men and women are stewards of their environment, ensuring the sustainability of golf courses for future generations. Though golf courses only make up a small piece of the whole of water usage, the UGCSA and its members are dedicated to do as much as possible to ensure the future of the state of Utah and the game of golf are bright.