Mission Statement
The Utah GCSA is dedicated to improving the superintendents' position in the golf industry through education, networking, advocacy and to grow the game of golf.
Vision Statement
Provide exceptional programs and services utilized by all members of the association.
UGCSA Best Management Practices Video
Welcome to the Utah Golf Course Superintendent's Association (UGCSA) website!
We are proud to present our Best Management Practices video:
Utah Golf Courses: The Unexpected Eco-Friendly Heroes of the State
Our new educational video shows how Utah golf courses help the environment and communities thrive with 17,000 acres of green infrastructure and $805M in economic impact.
The Utah Golf Course Superintendents Association (UGCSA) and sustainability consulting firm Radius Sports Group have released a new educational video showing the environmental and
economic benefits of golf courses in the state. The video "This Place" ugcsa.org/-bmp-video highlights conservation practices and positive impacts from 17,000 acres of green infrastructure for vital ecosystem services, such as wildlife habitat, urban cooling, and water filtration.
The video, launched during the week of National Golf Day, May 10, supports community engagement and education efforts around universal benefits of golf for all Utahns, not just golfers. Utah golf courses generate $805 million in total economic impact and support 9,600 jobs. Additionally, golf courses in Utah have donated more than $11 million to local charities. The 3-minute video also highlights water conservation best management practices (BMPs), such as using drought-tolerant turfgrass species, recycled water for irrigation, and reducing irrigated acreage at 44 percent of Utah golf courses over the last six years.
We are thrilled to share education about our eco-friendly golf courses in Utah. Said UGCSA President and Superintendent at Lakeside Golf Course, Josh Virostko, "We have more than 100 golf course superintendents who serve as stewards of the land and play a vital role in supporting the environment and our local communities…we are proud to share our story." Utah golf courses use science based BMPs to manage resources sustainably, including water conservation, wildlife habitat preservation, pollinator protection, and energy conservation. They use secondary, non-potable water for irrigation at nearly 60 percent of facilities and reclaimed water at 11 percent statewide. The UGCSA developed a BMP guide in 2020 to provide a reference and tool for sustainable resource management at Utah's 120 golf courses.
"Golf courses are often overlooked when it comes to their environmental contributions, but the reality is that they provide crucial ecosystem services," said Radius Sports Group President, Gina Rizzi. "From cooling cities to cleaning stormwater runoff to providing habitat for millions of migratory birds and Utah wildlife. We are proud to have collaborated with the UGCSA to help educate on the positive impacts."
The video and educational content were developed with the support of the Utah Golf Alliance, Utah Golf Association, Professional Golfers Association Utah Section, and a grant from the Golf Course Superintendents Association of America (GCSAA).
View the video at ugcsa.org/-bmp-video and learn more about the positive impacts of Utah golf.
#utahgcsa #ugcsa #gcsaa #golfcoursesuperintendents #Utahgolf #utahgolfBMP #NationalGolfDay #Conservation #sustainability
Assistant Superintendent Workshop
We're having an Assistant Superintendent Meeting at Jeremy Ranch on 6.30.23
This event is Free of Charge to those interested in furthering their careers through GCSAA Programs
Click here to reserve a spot!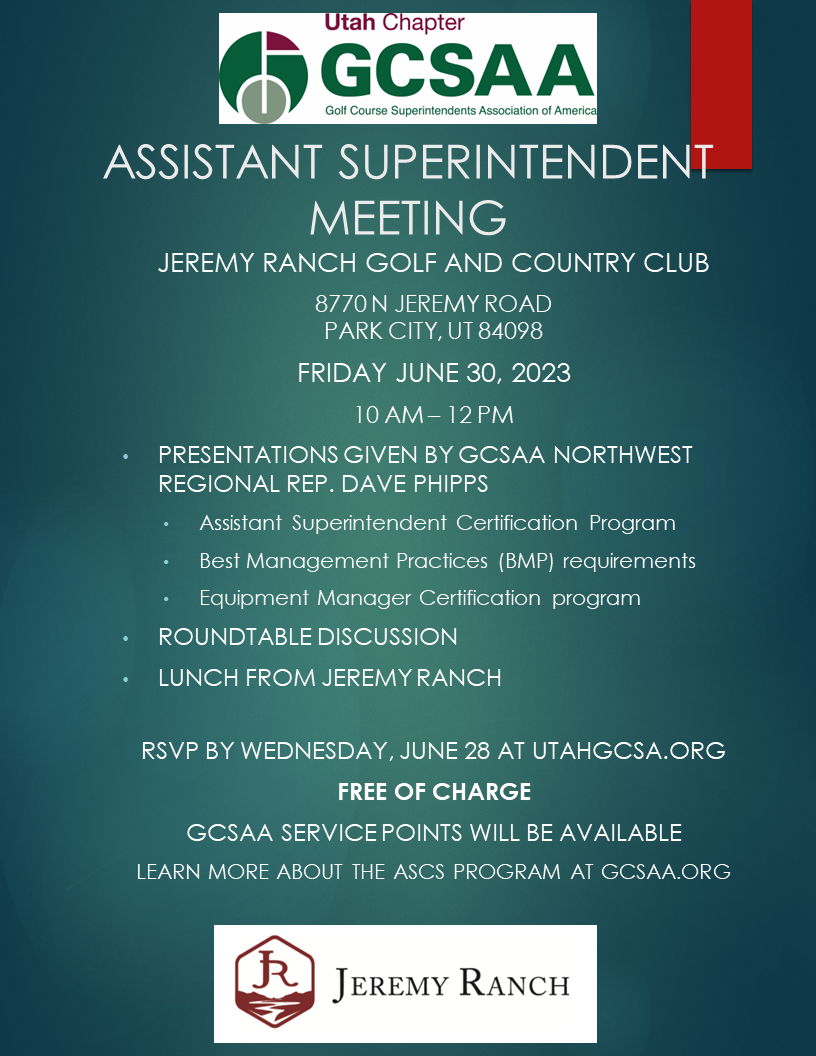 2023 UGCSA Spring Meeting
Thanks to everyone who attended the Spring Meeting @ Lakeside Golf Course!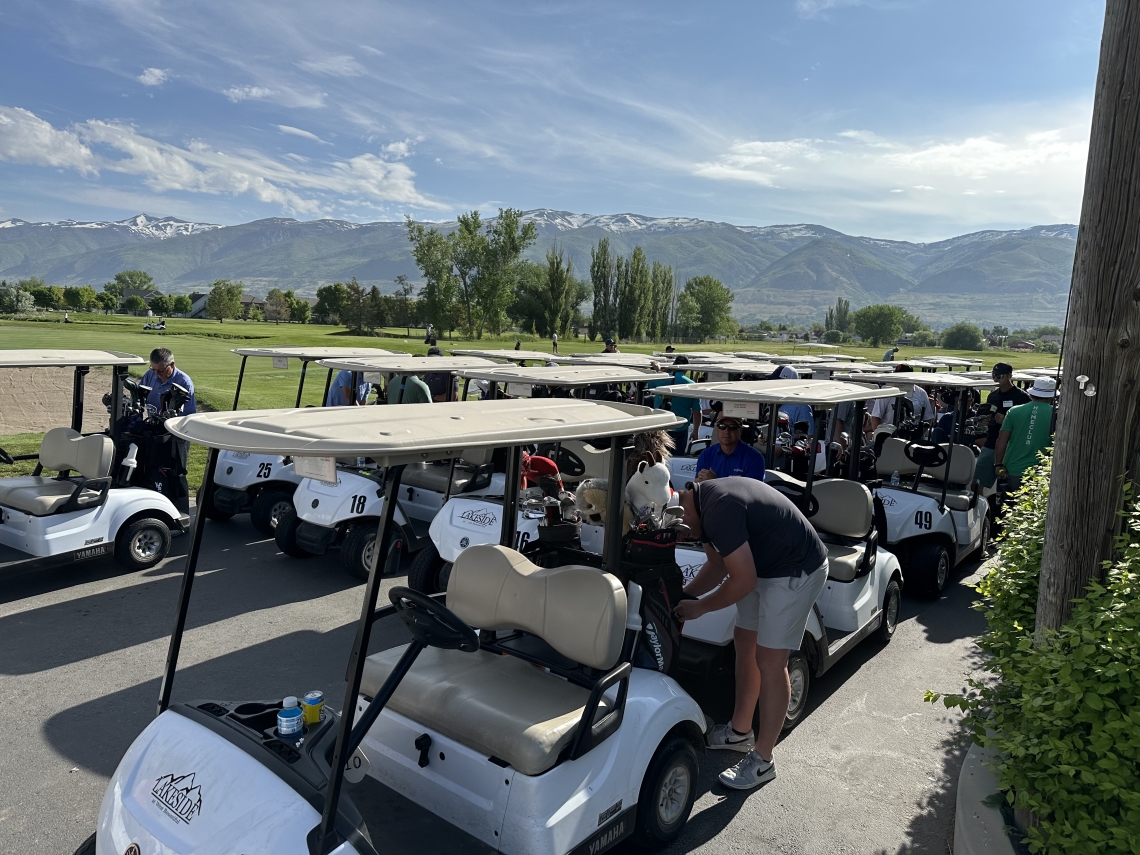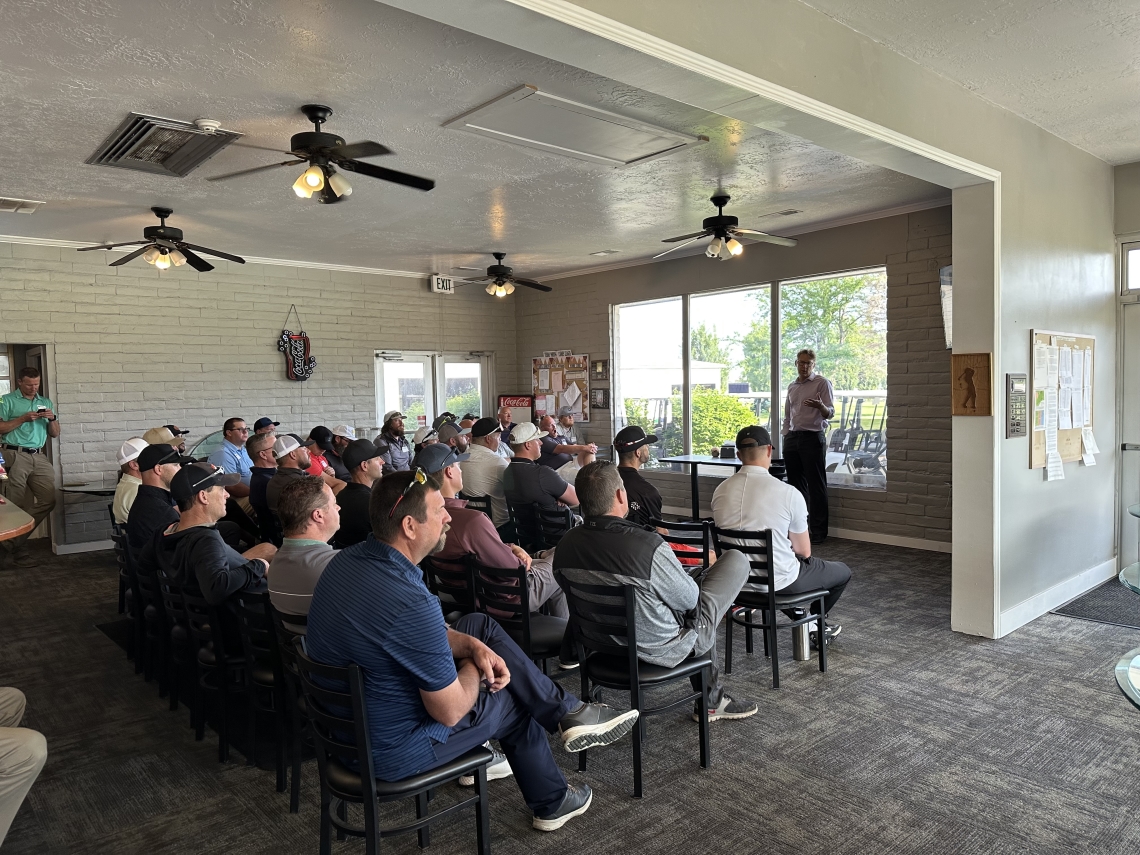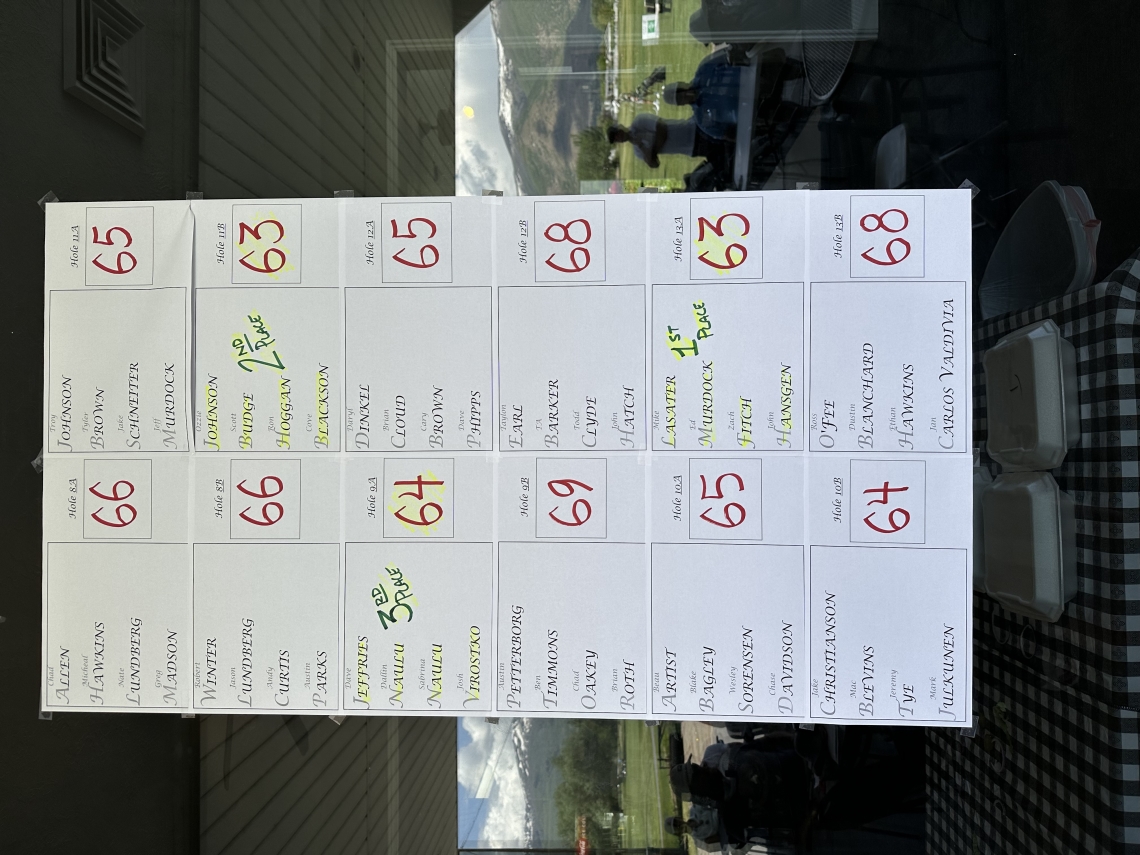 UGCSA and Airgronomics Match Play
Match Play is ON! First round matches need to be complete by May 31!
If you are interested in playing in the Match Play Pool Bracket (benefitting the Benevolent Fund), click here!

Member Spotlight
]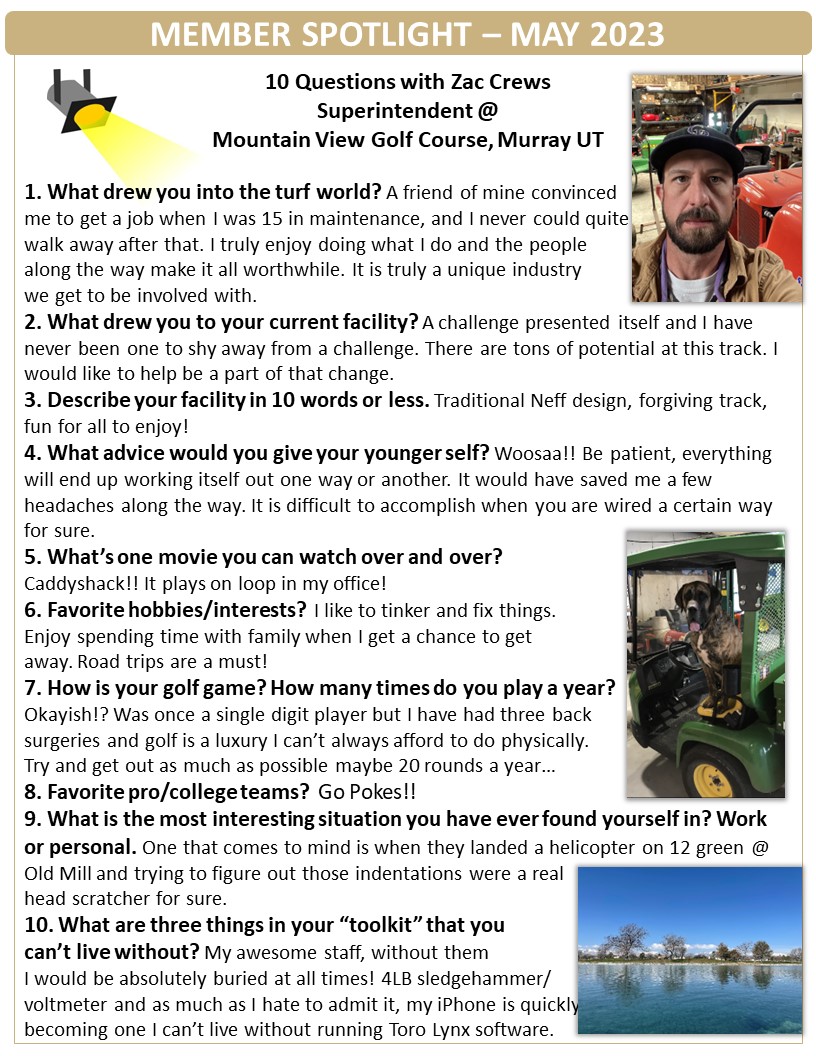 2023 UGCSA Sponsors
Thank you to the 2023 UGCSA Sponsors!
Platinum Sponsors
Response to Utah's Drought Situation
For many generations golf has been a part of the patchwork of society. It has long since been a place where young and old, expert or beginner, could come together over the love of a game. Ask any of the nearly 24.8 million golfers in the United States what golf means to them, and you'll find a passionate answer. Ask any of the 6.2 million new golfers in 2020 and you'll probably rouse up the same passion. In 2020 golf's value was proven. A year where more places were shutting down than staying open, golf courses still proved what they have always been, an escape. Many flocked to golf courses as a safe place they could recreate during the pandemic. It is uniting across all races, age, and abilities. What has golf meant to a society? Ask anyone who has ever picked up a club.
2021 has now brought about new challenges, namely the drought here in Utah. Though the state is annually in some form of drought, this year has been exceptional. Golf Course Superintendents have stepped up and are using what tools we have to do our part to protect one of our most precious resources, water. The demands of providing a playable golf course that is firm throughout, have superintendents constantly adjusting their practices. Though a reduction of water usage is the ultimate goal, superintendents are using their ingenuity to go about it in a variety of ways depending on what is available to them. Here are some of the many practices going on at your local golf course to save water.
Secondary water for irrigation – Many golf courses in the state use secondary water sources (non-potable) for irrigation. Secondary water is untreated, unfiltered water, mainly gathered through runoff.
Monitoring weather/Turf water loss – Through a variety of weather programs both real time and predictive, superintendents are adjusting watering schedules based on turf water loss and upcoming weather potential. Advanced weather stations that record temperature, humidity, UV index, Precipitation, and wind speed are used to adjust the amount of water applied daily.
Fertility Programs – Not all grass is green simply due to water. Superintendents are using an extremely precise, balance fertility program based on their individual site. Creating a dense stand of turf that is vigorous and healthy helps grass maintain its color and withstand the stresses of reduced watering.
Wetting agents – Wetting agents are products used to make watering more effective. They reduce natural tensions in the soil and allow water to penetrate more efficiently from the surface. This allows for less water to be applied to achieve the same soil moisture.
Establishing higher mowing heights – Longer grass = deeper roots. Superintendents are selecting new areas around the course for higher mowing heights. These areas require less maintenance, less inputs, and less water.
Selection of grass varieties – Grass varieties are constantly being evaluated and put into use that possess greater drought tolerance. Yearly overseeding with grass species that have proven themselves in the intermountain west is an ongoing practice.
Irrigation audits/upgrades – Golf Superintendents are constantly evaluating / reevaluating their irrigation system. Routine audits make sure each irrigation head is applying water appropriately. Additionally, there have been many advancements made in the golf industry to ensure the entire system is functioning at its optimal level.
Sand topdressing – Sand topdressing is utilized to encourage deeper rooting leading to a reduction of water.
In summary, though the state of the drought has increased in severity, western drought is an annual problem. Superintendents have been dealing with water issues since day one. They have been working tirelessly to be as efficient as possible, even in years where water is seemingly plentiful. Water conservation, especially in the west, is a top priority. These educated men and women are stewards of their environment, ensuring the sustainability of golf courses for future generations. Though golf courses only make up a small piece of the whole of water usage, the UGCSA and its members are dedicated to do as much as possible to ensure the future of the state of Utah and the game of golf are bright.